| | |
| --- | --- |
| St-Nazaire U-boat base | |
The St-Nazaire U-boat base was built between 1941 and 1942 by more than 4600 workers of the "Todt Organization". The construction of the base required more than 313,000 cubic meters of concrete. The bunker could accommodate giant XXI submersible with its 14 cells (8 dry docks).
The area of the base had been neglected for a long time since the end of the WWII. Therefore, in 1994, the municipality of Saint-Nazaire decided to launch the City-Port project aimed at regenerating the area of the base which was a vast industrial wasteland. The base is now profoundly transformed : the workshops were destroyed, many basin filled in, and a bridge was built to access the roof of the building.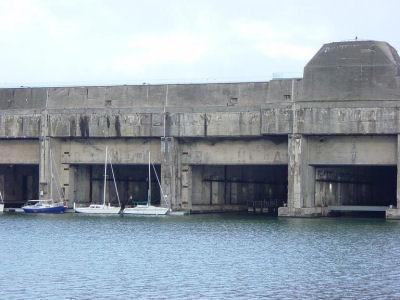 Contents
 
Related books
 
Location